Bonus Start Event - phase two
Grand Elmore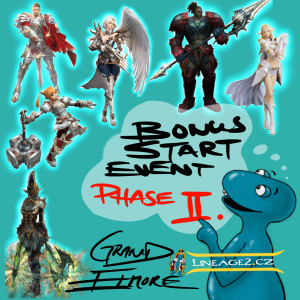 Dear players,
time on the server flies quickly, in one month it is Christmas. We are preparing a Christmas event for you, which will start just one day before Christmas Eve. More information about the event will be in the next article. The server has completed almost two and a half months since the launch, so we need to extend our Bonus Start Event and move it to Phase 2.
Bonus Start Event - Phase 2
The event is for all newly created characters and will be active from the regular restart on 25th of November 2019 at 7:00 GMT + 2.
What do the new characters get?
VIP for free for 3 days!
Bonus Start Event pack containing:

Time limited equipment C and low B grade (durability 15 days)
15x Fresh milk which gives one-hour buffs
5x Chocolate Cookie (replenishes full vitality)
1x Vitality Maintaining Potion
6x Extra Entrance Pass - Near (Rim) Kamaloka
3x Extra Entrance Pass - Kamaloka (Hall of the Abyss)
3x Extra Entrance Pass - Kamaloka (Labyrinth of the Abyss)
Lineage2.cz team