Dark Elmore 2018
Dark Elmore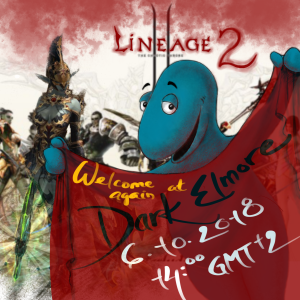 Dear players,
we are happy to announce that we will be opening a new Dark Elmore 2018 16x - Interlude server.
Start of the server is set to Saturday 6th of October 2018 at 14:00 GMT+2.
Beta test of the new server will be sometime between 17th and 23rd of September 2018. (exact date and time will be specified later). End of Beta test is planned for 5th of October 2018 afternoon.

The old server Dark Elmore 2017 will be closed with regular server restart on Monday 3rd of September 2018 at 7:00 GMT+2.
Server setup & features
The complete server setup and list of features can be found in section About server. Before the start of the server, minor changes can be made based on forum and facebook discussions.
Beta Test
During beta test you will have the opportunity to completely test the server features and possibilities. Detailed information about beta will be published in time
Character nicknames reservations
Before server start it will be possible to reserve the nicknames of your characters. We will publish the date of reservations start sufficient time in advance. The reservation itself will be done through the environment of L2 web profile and will be free of charge.
Dark Elmore VIP
Information about possibility to obtain VIP status (forum & colored nick ingame) will be published soon in another article.
L2 GM Team
Team for DE18 will be composed from: =GM=Sroubek, =GM=Teclis, =GM=Nesh, =GM=Diaz, =GM=Charlie
Server development
We are working on modifications we prepared compared to DE17 and bugfixes.
Marketing
We are prepared to address wide domestic and foreign community by:
Email campaign - as well as before every start we will send emails with information about new server start to all former players. Currently we have around 80 thousand unique emails.
Facebook & vk.com campaign
Information on various L2 forums
Banners and information on vote portals TopZone, HopZone + VOTE
During the year many people offered themselves to help with marketing. We will be happy if you contact us regarding this now on facebook or by emailing to info@lineage2.cz
We are looking forward to seeing you soon.
Your OG L2 team