Bonus Start Event - phase 2
Dark Elmore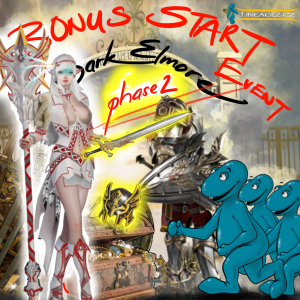 Dear players,
from Monday's regular restart on 19th of November 2018 GMT+1 the second phase of Bonus start event will start. Point of this event is to ease the start for new players that come to our server.
Bonus Start Event
All newly created characters will have in their inventory a Bonus Start Event Box, from which you will receive shadow armors and weapons for 7 days.
Changes from previous event:
Shadow items will be available until low B grade.
Buffs from Vendor will be for free until level 74
All newly created characters will receive SoE to Giran.
Rune of Sealstones
Now it will be possible to obtain except runes of XP & SP also runes of sealstones. Based on rune level it will increase the amount of sealstones dropped in catacombs & necropolises for 3 days.
L2 Team