Grand Elmore celebrates 3 months of server life
Grand Elmore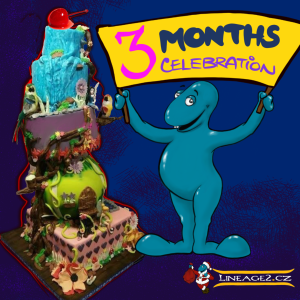 Dear players,
on Friday the 13th of September 2019 started our project Grand Elmore 2019 and today again on Friday the 13th we celebrate three months of server life. We thank all of our players for their participation in the project and its support.
To celebrate the three-months, we have prepared a small surprise for each character lvl 40+ which will be delivered during the weekend (no later than Sunday midnight).
Also, there will be an improved XP/SP boost event starting Friday the 13th of December at 20:00 GMT+1 until Sunday the 15th of December 23:59 GMT+1.
During this time all players will receive a

50% boost to all XP/SP

gained.
New player command
From Monday's restart we are introducing a new player command .petexp on/off which can disable the XP gained by pets.
From Diaz's workshop, a record of the castle siege fights of last weekend
Your Lineage2.cz Team