Vote system with rewards
Dark Elmore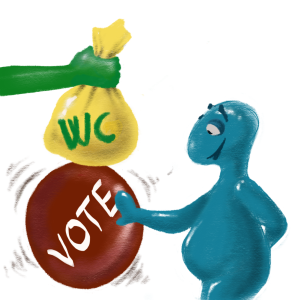 Dear players,

We bring you great news about Vote system we are preparing for the Dark Elmore server.
What's our motivation for this step?
Expand the possibilities of our server. We are expecting a significant increase in the player base in one month timeframe.
Preserve the current player base and give them a reason to play on the server for a much longer period of time.
Creation of a long term working server economy.
Make Dark Elmore known worldwide!
---
How will the vote system work?

From the environment of your web profile you can go to the Vote section, from where it will be possible to vote on various server vote pages.
Each 12 hours it will be possible to vote for our server on all server vote pages.
L2 manager will perform a check of sent vote request and validate it. If successful you will gain a certain amount of Warrior Coins (WC), which you already know from Mini-events.
These Warrior Coins can then be transferred ingame and you can purchase various items for them (Enchants all grades, Soul crystals 11-13 etc.)
Information on progress of Vote system implementation:
Currently the modifications of our L2 web to support the vote system are in progress. The exact date is not yet set, but it should be available sometime next week.
We will be starting with two vote servers: Hopzone & Topzone (requires registration). In future we plan to expand the amount of vote servers.
Rewards in Event section of Dark Elmore Vendor will be extended with enchants of all grades and some additional items. Also the prices of some items will be changed.
For voting on each of these vote servers you will receive a reward of 25 WCs, which can be transferred ingame into your character's inventory.
Vote servers are protected against change of IP address through various proxy sites, so there is no point in trying to change your IP address.
If someone already voted from your IP, you will be notified and voting will not be available.
The flow of WCs will be monitored in the same way as the flow of DEC to prevent any form of exploits.
You can vote for the server already today
You can vote from our Vote section.
Video manual from uNiquii
List of rewards at DE Vendor
Conversion to votes and days is considered for 4 voting servers although we are starting with only two.
DE Vendor - Event Enchant
EAC
25 WC
0,25 vote
0,13 days
EAB
50 WC
0,5 vote
0,25 days
EAA
75 WC
0,75 vote
0,38 days
EAS
250 WC
2,5 vote
1,5 days
BEAC
125 WC
1,25 vote
0.625 days
BEAB
400 WC
4 vote
2 days
BEAA
500 WC
5 vote
2.5 days
BEAS
1000 WC
10 vote
5 days
EWC
100 WC
1x vote
0,5 days
EWB
200 WC
2x vote
1 day
EWA
300 WC
3x vote
1,5 day
EWS
1000 WC
10x vote
5 days
BEWC
500 WC
5x vote
2,5 days
BEWB
1000 WC
10x vote
5 days
BEWA
1500 WC
15x vote
7,5 days
BEWS
3000 WC
30x vote
15 days
DE Vendor - Event Misc
SC 11
1000 WC
10x vote
5 days
SC 12
2000 WC
20x vote
10 days
SC 13
3500 WC
35x vote
17.5 days
High LS 70
150 WC
High LS 76
300 WC
Top LS 70
200 WC
Top LS 76
400 WC
1x QHP
20 WC
50x CP(50)
20 WC
50x CP(200)
80 WC
Dice
200 WC
DE Vendor - Event Service
HP/MP/CP restore
25 WC
Remove 1 PK
25 WC


Because of vote system implementation and reward price changes, also rewards for Mini Events will be doubled.
Examples of Vote system positive effects

The following examples already take into consideration 4 vote servers.
Each vote will move us into a higher ranking position. The goal is to get the server into top 10 servers that are visible on the main pages. This will bring new players to the server.
You can obtain 2000 WCs for voting only 20 times. This is the price BEWS has.
New players have the possibility to sell WCs to players that are buying them. They can also exchange them for equip, DEC, etc.
Each player has a reason to farm something always. Bigger clans will farm Soul crystals 12,13 and sell them for lower amount of WC than they are sold at the DE Vendor for, so that they can buy enchants. WB jewelry may also be sold for high amounts of WC, making them available for everyone.
All people will have motivation to play on the server long term and it will not be a problem for new players to start playing here, because the server will have a working economy where everyone sells and buys everything.
We thank you all for your support and we are looking forward to your voting for our server Dark Elmore.
Yours sincerely,
L2 OG Team