I. PvP Tournament
Dark Elmore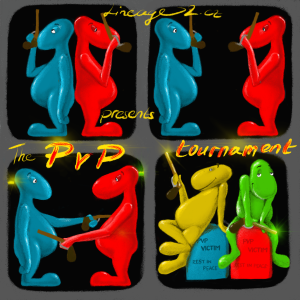 Dear players,
We bring you news about promised PvP tournament which will be organized by our GM team. We hope that the tournament becomes a regular event on our server Dark Elmore. If you find these events enjoyable, we will be repeating them in regular time intervals that will be defined in future. We will also touch the topic of TvT event and clan hall expropriation in regard to server rules.
PvP Tournament
We are pleased to announce the first round of PvP tournament on Dark Elmore server. This first round will be a new experience for you as well as for us. The point of this round is to test the functionality. There may be changes in tournament settings and rules prior to start.
The main purpose of the tournament is to have fun, so please act accordingly.
Registration is open starting from today and will be closed on Wednesday 21st of February 2018.
PvP tournament will be held on

Saturday 24th of February 2018 in morning hours

. (exact timetables will be published after the registration is closed)
Fights will be done in 5 vs. 5 setup in a specially designed arena
After teleportation into arena all participants will have their buffs canceled.
Vendor buff will be available on the spot
Blocked skills and items:

Hero skills and weapons
CP/HP/MP potions/elixirs
All types of resurrection skill

Winner of tournament will receive:

Orange colored nick with duration until next tournament
Warrior Coins (exact number will be set at the end of tournament)
His name will be forever mentioned in Hall of fame
You can start sending registrations by emailing us on info@lineage2.cz. Into Subject of the email put PvP Tournament and into the email body 5 nicknames of characters that will participate.
TvT Event
During Christmas holidays we resumed preparations for automatic TvT event that were already started on Dark Elmore 2015. Development looks promising. First testing operation should be available from start of March 2018. We are looking forward to first live tests.
Clan hall expropriation
In reference to rule Z13 we are providing a list of clans suspected of unrightfully owning a clan hall. Clan leaders of these clans have the possibility to sell their Clan Hall in an auction or appeal against this decision until 17th of February on Facebook or via e-mail. If none of the two listed options is used clan halls will be expropriated after regular server restart on 19th of February 2018.
List of clans:
Pride
AgainstAllOds
SixFeetUnder
IceOrFire
Beltaine
TraderUnion
MANOERA
AlcaNaira
Hromkocky
EmbraceDarkness
Anakondy
Chalapeno
TheAncients
Sroubek Offline
I will not be available from 26th of January 2018 until 12th of February 2018. Nothing will change in how the server works during my absence. Questions directed at me you can still send on FB or by e-mail where I will have access. Activities related to searching of logs will be postponed until I return. Thank you all for understanding.
Your OG L2 Team