Bonus Start Event - phase one
Grand Elmore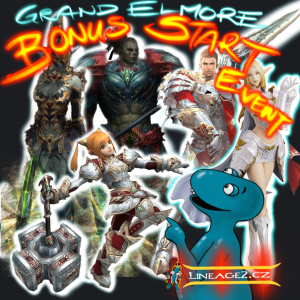 Dear players,
Today, Sunday 13th of October 2019, we celebrate 30 days from the Grand Elmore launch. Yesterday we exceeded the maximum online from year 2017 when we had 2015 players online, the new maximum of Lineage2.cz is 2121 online! Thank you all for your goodwill it is a great feeling to be with you :)
We're working hard to continue promoting the server to bring new players. After a month of server life, we launch the traditional Bonus Start Event, which will help all newcomers to get started on our server.
Bonus Start Event
The event is intended for all newly created characters. Bonuses will be applied from the regular restart on Monday, 14th of October 2019 at 7:00 GMT + 2.
What do the new characters get?
Free VIP for 3 days!
Bonus start event package containing:

Time limited equipment C and low B grade (durability 15 days)
10x Fresh milk which gives one hour buffs
3x Chocolate Cookie (replenishes full vitality)