Vote System 2018 with Reward
Dark Elmore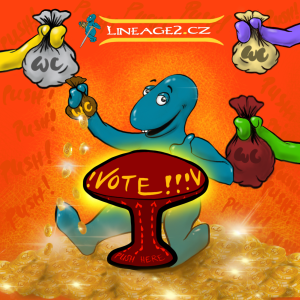 Dear players,
We bring you information about VOTE system for server Dark Elmore 2018. On previous server we tested VOTE for the first time. It brought us many new players and made the project lineage2.cz known in the rest of the L2 world. On this server we plan to continue with VOTE with small modifications.
How will the system work?
After logging in to your web profile you will gain access to the Vote section, where you will find rules for voting.

Please read these rules carefully.

Every 12 hours you will be able to vote for our server on 4 Vote servers. (

HopZone

,

TopZone

,

L2Network

&

L2jBrasil

).
For a successful vote on each vote server you will gain

25 WCs

which are added to your web account after verification (next to DEC).

WCs (Warrior Coins)

may be afterwards transferred ingame (Flush WC) and you can buy various rewards for them at Dark Elmore Vendor or you can trade them with other players. List of rewards you can find on the web in Vote subsection.
From when will Vote be active?
Vote is activated from this moment.

Warning: Until server start Vote system will run in test operation. All WCs that you gain will be deleted at server start on 6th of October 2018 at 14:00 GMT+2.

Flushing of WCs

ingame will be activated a week later on

13th of October 2018 at 14:00 GMT+2

.
World Boss relog protection
There are groups of players that are able to block access to world bosses for days. They teleport to the WB and run around and relog there for days so that no one else can enter. We do not want this on our server, therefore we prepared a countermeasure. After spawn or waking of the WB a timer will start. After expiring it will teleport all players out of the location and put WB "to sleep".
Following WBs will be affected:
Baium

– maximum time to kill is set to 4 hours

Antharas

- maximum time to kill is set to 8 hours

Valakas

- maximum time to kill is set to 8 hours
This modification should in no way limit groups that really come to kill the WB, only people trying to block it.
Beta test end
On

Thursday 4th of October

in the afternoon there will be restart after which Live configuration will be activated. (All special BETA only features will be deactivated – Beta NPC, autolearn, etc.) We do not want to be doing such changes shortly before live start. WIPE of characters will be done after Beta test end.
Beta test will end as planned on Friday 5th of October 2018 in the afternoon.
Your L2 Team