Live server start, pre-start & special VIP 2022
Infinite Elmore 2022 (HF)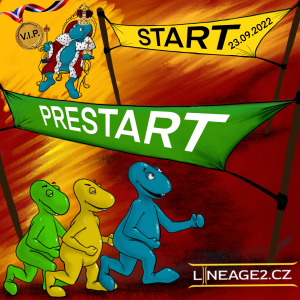 Dear players,
Testing of our new High Five server is in progress and we are bringing you the next important news.
Infinite Elmore 2022 Grand Opening
It was already set for

Friday, 23rd of September 2022 at 19:00 UTC+ 2

.
Game accounts created during the Beta Test will also be available on the Live server (game characters will need to be re-created – they will be wiped).
End of Beta Test
The Beta test will end on Wednesday, 21st of September 2022 during the day.
All modifications intended for the Beta Test will be removed.
The whole game world will be wiped (only the game accounts you have on your web profile will remain).
We would like to remind you that, as every year, WC & Runes obtained during the Beta Test will be deleted.

Special VIP advantages
As every year. you will have the possibility to support Infinite Elmore 2022 before start. Everyone who puts their trust into the server before 22nd of September 2022 23:59 UTC+2 will be given Special VIP status.
The whole amount that you send will stay on your web profile in the form of EC. After the server starts you can use them as you see fit.
The name of one ingame character will be given a golden color.
Discord accounts will also have a golden color.
You will gain access to a special VIP area on Discord.
Your requests in tickets will have priority treatment .
Conditions for gaining Special VIP
Support the server by purchasing 5000+ EC (500 CZK or ~20 €)
Do the purchase before 22nd of September 2022 23:59 UTC+2 (After this date it will no longer be possible to obtain Special VIP status)
Send email to info@lineage2.cz, with following information:

email of your web profile (mandatory)
name of character which will have golden nick (mandatory)

discord tag (for example =GM=Sroubek #1214)



Preparations for DDoS
Based on the experience of DE18-GE19-GE20-IE21 we expect a strong DDoS attack on all of our services.
All our servers are under professional DDoS protection abroad, but we are preparing for possible outages due to potentially needed modifications of protection settings.

Communication channels in case of DDoS attack

Discord

- we recommend to all our players to connect to our Discord, where the information from the web will be duplicated and you can also find the current system patch and client download links.

Facebook

- we will also inform you about the situation on our Facebook, where you can contact us via private messages.

We encourage all players to do this before Grand Opening:

Proxy access points

Most of our proxy access points will be offline during a potential DDoS attack. During the Grand Opening, we recommend everyone to log in directly to

Infinite Elmore

without using proxies!
Infinite Elmore 2022 Pre-Start
Prior to live start we will repeat what we did on our previous projects - Pre-Start. This is a further mitigation of the impact of a possible DDoS attack.
From Thursday, 22nd of September 2022 from 20:00 UTC+2 until Friday, 23rd of September 2022 17:00 UTC+2 you will be able to create game characters and send Elmore Coins to the game.

The server will allow you to log into the game and check that you have Elmore Coins on your character. Server will automatically disconnect you after about 2 seconds.
During this period, the NPC server will be shut down, so no game progress will be possible.
Before the Grand Opening of the server, all game characters' positions will be reset to the default starting spawn.
During the Pre-start period you will be able to Vote and send the Vote rune to your character. Runes obtained during Pre-start will remain on your profiles. After pre-start, obtained WCs will be deleted.

We look forward to seeing you at the Grand Opening!
Your L2 GM team.