Infinite Elmore 2023
Infinite Elmore 2023 (HF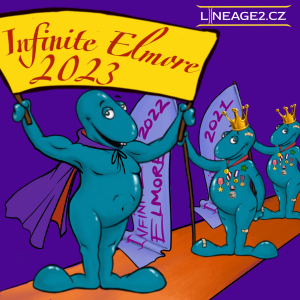 Dear players and supporters of the Lineage2.cz project,
the end of June is approaching and traditionally, we come with information about new project.

Infinite Elmore 2023
This year we will run a High Five server again, whose configuration will be based on previous projects. We will be improving the settings again with a strong consideration of the feedback from our community.
We dare say that last year's project was the most playable project we've ever released. We managed to prepare a server on which epic multi-sided fights took place. The game was enjoyed not only by experienced players, but also by the casual community.
This year we will start a little later than in previous years, due to a large number of upcoming changes. We will launch the new project on Friday, 13th of October 2023 at 19:00 UTC+2.
Beta test is planned in September, the exact date will be published later.
Infinite Elmore 2022 will be closed after the regular restart on 31st of July 2023.
These are the changes we are planning:
Rates - Will be discussed in a separate topic on our Discord forum, where we will publish our initial proposal
Macro reuse glitch

It will no longer be possible to reduce the reuse of skills by putting them in a macro

Soulshot / spiritshot lags

While using spiritshots it was happening that spells cast immediately after another spell did not receive the spiritshot casting speed bonus, this will no longer be happening.
In certain situations it was happening that after the use of a physical skill while having a large attack speed, the soulshot damage bonus of a standard attack was not applied when using a normal attack directly after a skill. This will no longer be happening.

Scheme buffer for VIP characters

Each VIP character will be able to define 3 buff schemes for each subclass and subsequently use them at the Vendor. The buffs available will be the same for VIP and NonVIP characters.

New antibot system: Active Anticheat
New interface from Somik:

There were a lot of discussions in the past about interfaces and various client modifications. With this we want to achieve equal conditions for everyone.
We will support our version of Somiks interface and the unmodified version of the client interface.
We ask the player community to study the entire topic about the interface in detail and notify us of any problematic functions that need to be disabled or changed in addition to what is mentioned in this topic.
Configuration of automated features:

Loop Macros - Disabled
Auto Potions - Disabled
Auto Souls and Forces - Disabled
Auto Skill Enchant - Enabled
Auto Item Enchant - Enabled
Auto Augment - Enabled
Auto Attribute - Enabled
Anti Mirage - Disabled
Auto Assist - Disabled
Targets Debuffs - Disabled

These commands will be disabled:

/DelayRand
/targetnextlong
/Removebers
/removecele
/removeicons
/removeud
/removearcane
/removecond
/removepetbers
/removepetcele
/removepeticons
/removepetud
/removepetptud
/removebuff
/removepetbuff
You may send your suggestions to our discord where a new section for Infinite Elmore 2023 is created, we will be monitoring it closely. Any interesting suggestions can be discussed there and may be put to a general vote in poll when necessary.
Your Lineage2.cz tým