Grand Elmore first Heroes
Grand Elmore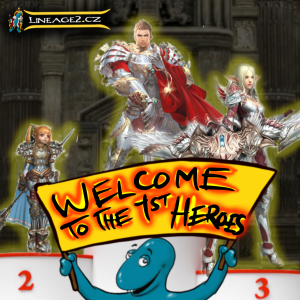 Dear players,
The server Grand Elmore has been with us for three weeks and is doing great. On Sunday 6th of October 2019 the first season of the Olympiad ends, so on Monday 7th of October 2019 afternoon the server will hear its first heroes. The end of the first Olympiad season brings changes to our Vendor.
Lineage2.cz Vendor
From Monday 7th of October 2019 new items will be available from Vendor:
Vitality items

Chocolate Cookie -

100 EC (1 piece)

replenishes vitality instantly

Vitality Maintaining Potion -

500 EC (1 piece)

maintains the current level of vitality after use for 10 minutes

They will be available after regular restart.

Subclass & Nobless

tems that make it easier to get subclass and nobless.
They will be available from the beginning of the day.
Bonus Start Event
Next week, the server will complete the fourth week of its existence and as it has become customary, the first phase of the Bonus Start Event will be launched, which will help newcomers to get started on our server. Details about the event will be published in the next article.
Lineage2.cz team