Bonus Start Event - phase three
Grand Elmore 2019 (GE 10x)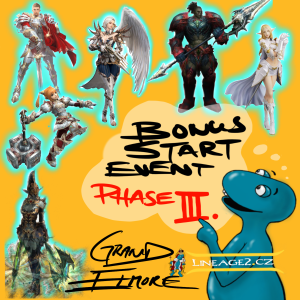 Dear players,
on Monday, 13th of January 2020, Grand Elmore celebrated four months of its life. With this in mind, we are moving to the third stage of the Bonus Start Event, which in addition to the original settings brings new extensions.
Newly at Lineage2.cz Vendor
Buffer up to character level 80 (including) - PP / SE buffs - 1h duration, songs / dance 20 min duration – available buffs are limited to level 74 of their appropriate classes, buffs bestowing resists will NOT be available)
50% discount on Chocolate Cookie (50 EC) and Vitality Maintaining Potion (250 EC)
Birthday Cake will now be available for purchase at Lineage2.cz Vendor (3000 EC)
---
In addition to this there will be XP / SP boost event active from 20th of January 2020 - 7:00 GMT+1 until server restart on 27th of January 2020.

During this time all players get 30% XP / SP boost.
The Bonus Start Event – phase three will be active from the regular restart on Monday 20th of January 2020 7:00 GMT + 1.
Newly created characters receive:
VIP for free for 3 days!
Bonus Start Event pack containing:
Time limited equipment C and low B grade (durability 15 days)
15x Fresh milk which gives one-hour buffs
5x Chocolate Cookie (replenishes full vitality)
1x Vitality Maintaining Potion
6x Extra Entrance Pass - Near (Rim) Kamaloka
3x Extra Entrance Pass - Kamaloka (Hall of the Abyss)
3x Extra Entrance Pass - Kamaloka (Labyrinth of the Abyss)
Lineage2.cz team