First Heroes and Bonus Start Event 2022
Infinite Elmore 2022 (HF)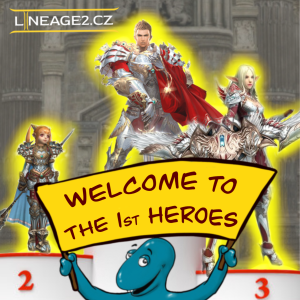 Dear players,
The Infinite Elmore server has been with us for three weeks. We have the first Castle Sieges behind us, during which all castles were occupied, the first Territory Wars, number of defeated World Bosses and some amazing fights for them!
The first season of the Olympiad ends on Sunday, 16th of October 2022, so on Monday,17th of October 2022, the server will welcome its first heroes in the afternoon. The end of the first season brings with it changes at our Vendor.
Lineage2.cz Vendor
From Monday 17th of October 2022, new items will be available at Vendor:
Vitality items

Chocolate Cookie - 100 EC (piece)

replenishes vitality instantly

Frintezza's Magic Force Field Removal Scroll -

2000 EC (1 piece)

Standard Caravan Certificate

-

1000 EC (1 piece)

Premium Caravan Certificate -

3000 EC (1 piece)



They will be available after the regular restart at 7:00 UTC+2

Subclass, Nobless

Subclass and Nobless items for various steps of the standard quests
Possibility of skipping subclass quests (Fate's Whisper, Mimir's Elixir, Seeds of Chaos)

The whole set of Nobless quests can be skipped instantly, provided you switch to Subclass 75lvl +
All will be available from the beginning of the day (Monday 0:01)
Bonus Start Event

The event is intended for all newly created characters from the regular restart on 17th of October 2022 at 7:00 UTC+2.
What will the newly created characters get?
VIP for 1 day for free!
Event package containing

equip up to low B grade (Limited duration of 15 days)
low A grade armor sets (Limited duration of 30 days)
15x Fresh milk which gives hourly buffs
5x Chocolate cookie (replenishes full vitality)

5x Extra Entrance Pass - Near (Rim) Kamaloka



3x Extra Entrance Pass - Kamaloka (Hall of the Abyss)
3x Extra Entrance Pass - Kamaloka (Labyrinth of the Abyss)
Auctions
From Monday, 17th of October 2022 auctions will be activated. The first auction will take place on Monday at 17:00 UTC+2 in Aden.
Global Shout
We have decided to keep the global shout active even after the first heroes are announced in order to promote trade and cooperation between players.
Thank you to all our players and fans for their support in promoting the server!
Lineage2.cz team