Freya Celebration Halloween Event 2022
Infinite Elmore 2022 (HF)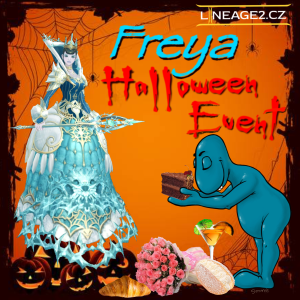 Dear players,
On 23rd of October 2022, we celebrated 30 days since the start of the server, and a lot has happened during that time. PvP fights are in full swing and we're not afraid to say that these are the best fights we've ever had on our projects. We believe that both participants and viewers of the streams have a great time. As a small reward, we have prepared a server event for you, which has never been launched here.
Freya Celebration
As you know Felicia was transformed by her enemies into Ice Queen Freya. We will try to melt her icy heart and free her soul from its icy grip. There is only one way to free the queen. Gifts will drop from mobs all over the world which you can give to Ice Queen Freya (found in every town). We need to awaken in her memories of her past, to remind her of the existence of happiness and love.

Your effort to free the queen will not go unrewarded, when gifting (you use the event item directly on the NPC) Ice Queen Freya there is a chance that you will also be rewarded.

During the event, you can buy Halloween accessories (masks, cloak) from the Freya NPC.

The start of the event will be after a special restart on Thursday, 27th of October 2022 at 11:00 UTC+2. The event ends on Monday, 7th of November 2022 at 7:00 UTC+1. Event NPCs will be available until the restart on 14th of November 2022.

Changing of summer time to winter time
On Sunday, 30th October 2022, at 3:00 UTC+2, we will switch from summer time to winter time. We will go from UTC+2 to UTC+1. The time change is associated with a number of inconveniences. We will adjust everything necessary on Sunday, the rest during the regular restart on Monday. Please note that static WB spawn times and RB spawn times may shift outside of their usual time frames.

Rewards

Neolithic Crystal - S84


Neolithic Crystal - S80


Neolithic Crystal - S


Fire Crystal


Water Crystal


Earth Crystal


Wind Crystal


Dark Crystal


Holy Crystal


Noble Enhancement Stone


Giant's Codex - Mastery


Giant's Codex


Warrior Coin