Bonus Start Event - Phase 2
Infinite Elmore 2022 (HF)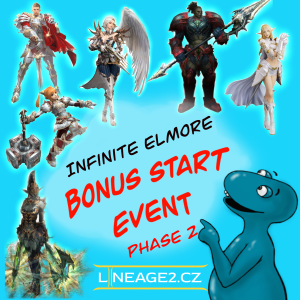 Bonus start event for all newly created characters is progressing to the second stage and will be active from the regular restart on 21st of November at 7:00 UTC+1.
What will the newly created characters get?
VIP for 3 days free!
Event package containing

equip to low B grade (duration 15 days)
low A grade armor sets (duration 30 days)
15x Fresh milk which gives hourly buffs
5x chocolate cookie (replenishes full vitality)
10x Extra Entrance Pass - Near (Rome) Kamaloka
6x Extra Entrance Pass - Kamaloka (Hall of the Abyss)
6x Extra Entrance Pass - Kamaloka (Labyrinth of the Abyss)
Change of Buffs at Vendor
The buffs available will no longer be progressive. From now on, level 1 of your character will get buffs that you could get only after reaching level 74+

Reputation points for RBs
Introducing a new clan reputation points earning system. Points will now be earned by killing RBs. Each clan level 5+ can earn points based on the last hit a clan member gives to the Raid Boss. The number of earned reputation points depends on the level of RB and will be obtained by the formula: level RB * 5.