New Lineage2.cz website and vault
Grand Elmore 2020 (GE 10x)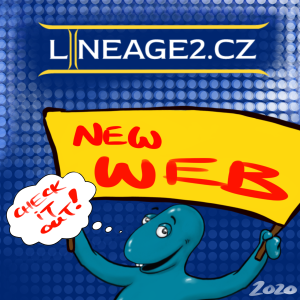 Dear players,
Welcome to the environment of our new website, which has been completely rewritten and replaced the original version from 2013. We are still working on the website and its functions. All its primary functions will be completed before the start of the Grand Elmore.
What's new?
Vault

The original application could no longer be maintained, many things did not work, so it was decided on a complete remake.
The new Vault is part of the website, which will allow us to use the connection of game accounts connected to the web profile.
As part of the beta, the Marketplace and Library sections will be available. We are working hard on other sections.

Web

The content of the website has been redistributed for the sake of clarity.
Navigating the web before and after logging in should be now more intuitive, the user should no longer be confused about the difference between a web profile and the actual management of game accounts.
We are planning the possibility of transferring game accounts between individual web profiles.
It will be possible to manage the web profile by clicking in the upper right corner. Information about the status of the EC and WC on an account and other related details will be transferred there.
We have removed a number of errors and inconsistencies from the original presentation.

Logo

We also have a new logo for you, it is made in several variants. The logo will be available for download for all those who create image or video content.
Original web profiles
Since 2013, when the original website was launched, we have registered over 75,000 web profiles, many of which are no longer active. We have transferred to the new website:

All web profiles with payment history.
All web profiles whose users last logged in 1.1.2017 and later.
The website was launched before completion, mainly to present the server settings so that the advertising campaign could be fully launched.
We believe that you will like the new environment more.
Lineage2.cz team