The first week of Grand Elmore 2020
Grand Elmore 2020 (GE 10x)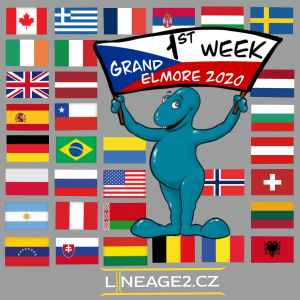 Dear players and fans of Lineage2.cz,
on Friday, the 11th of September 2020, we launched our second Gracia Epilogue project: Grand Elmore 2020 and we are getting past its first week of life. For those that remember our beginnings from year 2006, this project is already the 13th.
The start of the server was uniquely successful, despite the fact that we have been under constant fire from DDoS attackers since the start, who certainly will not give up so easily. We are still running without interruption and we are doing everything we can to continue to do so! We thank all our faithful fans and also newcomers for their support. Thanks to you, it was possible to create a project where everyone is having a good time now. A few photos from the first minutes of the server's life.
The current server maximum is 1887 players online, and since the start of the server, 2895 HWIDs (unique accesses) have passed through the server. Around 2000 HWIDs pass through the server every day and over 10,000 game characters were created during the first week of running!!! This number is still rising and there is a lot of talk about the server also on social networks and forums. A significantly larger international community has arrived this year. This fact managed to fulfill our long-standing commitment of creating a truly international server.

Stream affiliate program
To this date, we have registered 23 streamers in the stream section. The rewards will be paid tomorrow (September 19, 2020) in the evening. More about the affiliate program.
Thank you for your support in promoting the server!
Clan Hall sieges + Auctions of Clan Halls
Today, 18th of September 2020 at 20:00 GMT + 2, the 1st sieges for contestable Clan halls will take place. The auctions of regular Clan halls end on Tuesday, 22nd of September 2020 at 22:00 GMT+2.
Vote and Transfer of Warrior coins ingame
By regularly voting for our server, you help to make it more visible to other potential players. The server will reward you in the form of Warrior Coins (WC) for each vote portal and you also get the Vote Rune, which gives you small ingame bonuses.
Today on midnight, the transferring of Warrior Coins ingame will be enabled (Flush WC service), where you can exchange them with other players or exchange them for various items at Lineage2.cz Vendor.
Vote regularly every 12 hours on all four vote portals and get up to 100 Warrior Coins and a Vote rune!
The first season of the Grand Elmore Olympiad
From Monday, 21st of September 2020, the first fights in the first season of the Olympiad will begin. Season will end on Sunday, 4th of October 2020 midnight. The first heroes will be heard in hero chat on Monday,5th of October 2020.
Nick reservation - reset
On Sunday,20th of September 2020, at 14:00 GMT + 2, the reservation of game nicknames will expire. If you didn't manage to create all your characters, fix it quickly. After this deadline, all unused nicknames will be freely available to anybody.
Your Lineage2.cz Team