First heroes on Grand Elmore 2020
Grand Elmore 2020 (GE 10x)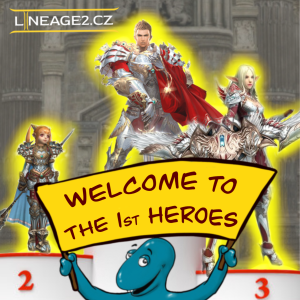 Dear players,
The Grand Elmore server has been with us for three weeks. During that time, 3937 unique HWIDs passed through the server, the daily traffic is kept at 2000+ HWIDs, the current server maximum is 2208 online. These are great results, thank you to all our players and supporters for their support in promoting the server!
The first season of the Olympiad ends on Sunday, 4th of October 2020 at midnight, so on Monday, 5th of October 2020, the server will see its first heroes in the afternoon. The end of the first season brings with it changes at our Lineage2.cz Vendor.
Lineage2.cz Vendor changes
From Monday, 5th of October 2020, new items will be available for purchase at Lineage2.cz Vendor:
Vitality items

Chocolate Cookie - 100 EC (piece)

replenishes full vitality instantly

Vitality Maintaining Potion - 500 EC (piece)

after use maintains the current level of vitality for 10 minutes

They will be available after regular server restart at 7:00 GMT+2.

Subclass & Nobless

Items that make it easier to get subclass and nobless will be available from the beginning of the day (Monday 0:01 GMT+2).
Solo & Party TvT Event during the weekend
This weekend for the first time the new TvT events will run. We will run both the Solo TvT event and also the Party TvT event on Saturday and Sunday. The schedule will be as follows:
Solo TvT event: From 16:30 GMT+2 until 17:30 GMT+2
Party TvT event: From 17:30 GMT+2 until 18:30 GMT+2
Further scheduling of the events will be published on our web in the event section.
Gather the attribute crystal fragments event
After the regular restart on Monday 5th of October 2020 at 7:00 GMT+2, the event will be launched, more information in the description of the event.
Lineage2.cz team