Bonus Start Event 2020 - phase one
Grand Elmore 2020 (GE 10x)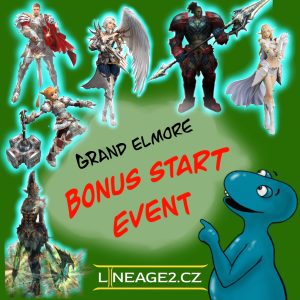 Dear players,
On Friday, the 9th of October 2020, we celebrated 30 days since the launch of Grand Elmore 2020 server. Current server maximum online is 2460 players. Through the server already passed 4012 HWIDs. Thank you all for your kindness, it's a great feeling to be here with you :).
After a month of running, we will launch the traditional Bonus Start Event, which will help all newcomers to begin on our server more easily.
Bonus Start Event
The event is intended for all newly created characters from the regular server restart on the 12th of October 2020 at 7:00 GMT+2.
What will the newly created characters get?
VIP for 3 days for free!
event package containing:

equip until low B grade (duration 15 days)
10x Fresh milk which gives buffs lasting 1 hour
3x Chocolate cookie (replenishes full vitality)
HellBound Opening
According to the plan, Hellbound will be open after the regular restart on 12th of October 2020 at 7:00 GMT+2.
The first auctions
The first auction at NPC Item Broker will start in Aden on Monday, 12th of October 2020 at 17:00 GMT+2.
Auctions at Rune at NPC Item Broker will begin on Wednesday,14th of October 2020 at 17:00 GMT+2, and on Friday, 16th of October 2020 at 17:00 GMT+2, the Giran auction will also open at NPC Item Broker.
How does it work?

In the auction you can find +15 NG weapons, SA 15-16 level, protection books, will books, Life Stones, visual accessories.
You bid adena in the auction, the player with the highest bid wins the item.
The following week, the auctions are repeated, changing the items offered. We recommend everyone to watch the auctions, so you can easily come up with interesting items.
Solo TvT Events
Take advantage of a great opportunity to earn warrior coins where you can have a good time as well!
Monday, Wednesday & Friday from 17:00 GMT+2 until 18:30 GMT+2

Registration is possible with the NPC in Aden Square
Winners will receive a prize in the form of 75 warrior coins & 100 fame
The price for registration is 500k adena
We apologize for the problems with TW on 10th of October 2020 that were caused by unexpected set of circumstances. These caused the transfer of TW to the next day. Thank you to all players for your understanding. As a small compensation, each lvl 40+ character will receive 3 chocolate cookies into their inventory during the day on 12th of October 2020.
Lineage2.cz team