Bonus Start Event - phase two
Grand Elmore 2020 (GE 10x)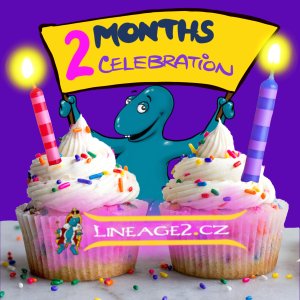 Dear players,
on Wednesday, 11th of November 2020, Grand Elmore celebrates 2 months since its launch. We have increased our historic maximum number of players from 2235 to 2684 online, Congratulations! Thank you all for your kindness and support, we will continue to work hard on the server so that you will continue to enjoy it.
To celebrate the two-months, we have prepared a small surprise for you, which each lvl 40+ player will receive during Wednesday (no later than midnight).
Weekend EXP / SP Boost Event
From Friday, 13th of November 2020 19:00 GMT+1 a special EXP / SP boost event will be activated. The Boost Event adds 30% EXP and SP from all killed mobs and will last until Sunday midnight on 15th of November 2020.
Bonus Start Event - Phase 2
Since the server will run for over two months, it is necessary to expand our Bonus Start Event and move it to phase 2. The event is intended for all newly created characters and will be activated from regular server restart on 16th of November 2020 at 7:00 GMT + 1.
What will the newly created characters get?
VIP for 3 days free!
Bonus start event package containing

equip to low B grade (shelf life 15 days)
15x Fresh milk which gives hourly buffs
5x Chocolate cookie (replenishes full vitality)
1x Vitality Maintaining Potion
6x Extra Entrance Pass - Near (Rim) Kamaloka
3x Extra Entrance Pass - Kamaloka (Hall of the Abyss)
3x Extra Entrance Pass - Kamaloka (Labyrinth of the Abyss)
Changes at Lineage2.cz Vendor
Soul crystals level 15 & 16 will be purchasable for Warrior Coins (from regular restart on 16th of November 2020 at 7:00 GMT + 1)
Lineage2.cz Team