Infinite Elmore - Project 2021
Infinite Elmore 2021 (HF)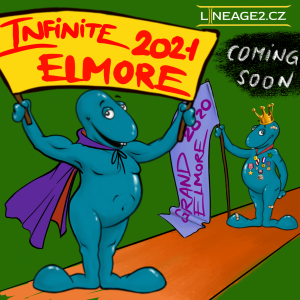 Dear players and supporters of the Lineage2.cz project, the summer holidays are approaching and we bring traditional information about the further direction of our project. We have been here for you since 2006, although the association was not established until February 2007. It is unbelievable, but we are celebrating 15 years of our joint operation!!!
We think it is appropriate to look back at our history and mention our previous projects:
Light Elmore - 1x - C4 - from 24.7.2006 to 17.2.2009
Wild Elmore - 8x - C4
Dark Elmore - 25x - C4 - closed 10.5.2010
Elite Elmore - 4x - C5 - from 18.2.2009 to 9.5.2010
Dark Elmore - 25x - C4 / IL - from 12.11.2010 to 1.5.2011
Royal Elmore - 6x - GF - from 16.7.2011 to 10.1.2013
Sinister - 4x - H5 - from 12.10.2013 to 29.7.2014
Grace - 10x - GF - from 13.9.2014 to 4.9.2015
Dark Elmore - 25x - IL - from 2.10.2015 to 13.8.2017
Dark Elmore - 16x - IL - from 30. 9. 2017 to 3. 9. 2018
Dark Elmore - 16x - IL - from 10. 6. 2018 to 29. 7. 2019
Grand Elmore - 10x - GE - from 13.9.2019 to 17.8.2020
Grand Elmore - 10x - GE - from 9/11/2020 to 8/9/2021
We have 15 years of experience and 13 projects behind us. After much effort, we managed to make ourselves visible also on the international scene and gain the favor of foreign players.
We would like to thank all our players and many fans, without whom none of this would be possible. We feel the need to prepare something special for the 15th anniversary of our operation, and therefore we are preparing a new long-term project!
Infinite Elmore
In September 2021, we will launch a long-term project Infinite Elmore - High Five, built on retail scripts and l2off core. We have been playing with this idea for a long time, but for many reasons we were not able to realize it. Fortune favored us and we were able to change that and we have been working on the preparation of the project since the end of 2020. We are currently fine-tuning the details and performing in-depth testing. You will be able to test the quality of the server during a beta test, which will begin sometime between 13th and 16th of August 2021.
As on previous projects, we want to discuss the server configuration with the community. We will gradually publish the details of the settings on our forum, where you will have the opportunity to comment on everything.
The basic setting of the rate will be decided by a poll that will be held on our Discord server (only verified users can vote). The poll will be closed on 28th of June 2021 and its results will be evaluated in a following article.
The exact launch date of the server will be published later on our website.
End of Grand Elmore 2020
the server will be closed on 9th of August 2021 - after the regular restart, the server will no longer come online
after closing, preparations for the launch of the beta test will begin
We look forward to our next joint adventure, your Lineage2.cz team.