First Heroes and Bonus Start Event - Phase One
Infinite Elmore 2021 (HF)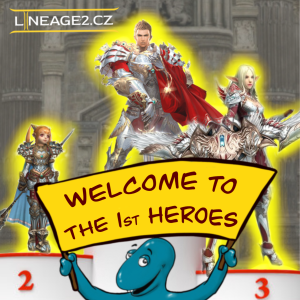 Dear players,
The Infinite Elmore server has been with us for three weeks. We have the first Castle Sieges behind us, during which all castles were occupied, the first Territory Wars and number of defeated World Bosses!
The first season of the Olympiad ends on Sunday, 10th of October 2021, so on Monday,11th of October 2021, the server will welcome its first heroes in the afternoon. The end of the first season brings with it changes at our Vendor.
Lineage2.cz Vendor
From Monday 11th of October 2021, new items will be available at Vendor:
Vitality items

Chocolate Cookie - 100 EC (piece)

replenishes vitality instantly

Vitality Maintaining Potion - 500 EC (piece)

after use maintains the current level of vitality for 10 min

They will be available after the regular restart at 6:00 GMT+2

3rd class transfer

Possibility to instantly get the 3rd class transfer without running the quest
Will be available from the beginning of the day (Monday 0:01)

Subclass, Nobless

Subclass and Nobless items
The whole set of Nobless quests can be skipped instantly, provided you switch to Subclass 75lvl +
All will be available from the beginning of the day (Monday 0:01)
VIP characters will receive PC cafe points for online time in the game after the regular restart at 6:00 GMT+2. PC cafe points can be exchanged for various items at Adventure Guildsman in each city / village.
Bonus Start Event

The event is intended for all newly created characters from the regular restart on 11th of October 2021 at 6:00 GMT+2.
What will the newly created characters get?
VIP for 1 day for free!
Event package containing

Equipment up to low B grade (for 15 days)
15x Fresh milk, which gives hourly buffs
5x chocolate cookie (replenishes full vitality)
Weekend EXP / SP Boost Event
A special EXP / SP boost event will be activated from Friday, 15th of October 2021 19:00 GMT+2. The Boost Event adds 30% EXP and SP until Sunday midnight on October 17, 2021.
Bonus for newly coming CPs and Clans
For newly coming CPs and clans, we offer instant acquisition of Clan level 5. You can apply for the bonus via PM on our Facebook or Discord. To receive this bonus, the players really need to be newcomers and not existing players.
Thank you to all our players and fans for their support in promoting the server!
Lineage2.cz team