Bonus Start Event - Phase Two
Infinite Elmore 2021 (HF)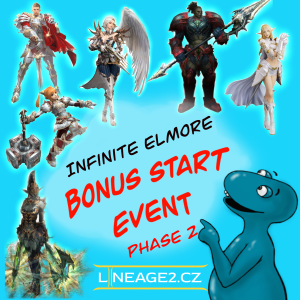 Dear players,

We have another weekend Boost event prepared for you and the Bonus Start Event will move to the second phase.
Weekend EXP / SP Boost Event
A special EXP / SP boost event will be activated from Friday, 19th of November 2021 19:00 GMT+1. The Boost Event adds 30% EXP and SP until Sunday midnight on 21st of November 2021.
Bonus Start Event - Phase 2
The event is intended for all newly created characters and will be activated from the regular restart on 15th of November 2021 at 6:00 GMT+1.
What will the newly created characters get?
VIP for 3 days for free!
Bonus start event package containing:

equip to low B grade (shelf life 15 days)
15x Fresh milk which gives hourly buffs
5x chocolate cookie (replenishes full vitality)
1x Vitality Maintaining Potion
10x Extra Entrance Pass - Near (Rim) Kamaloka
5x Extra Entrance Pass - Kamaloka (Hall of the Abyss)
5x Extra Entrance Pass - Kamaloka (Labyrinth of the Abyss)
Changes at Lineage2.cz Vendor
from regular restart on 15th of November 2021 at 6:00 GMT+1:
Prices of SA crystals purchasable with WCs will be adjusted:

SA level 13 reduced from 4000 WC -> 3000 WC
SA level 14 reduced from 6000 WC -> 4000 WC
SA level 15 reduced from 8000 WC -> 6000 WC
SA level 16 reduced from 10000 WC -> 8000 WC

The following items will be added to the Special section of Vendor:

Frintezza's Magic Force Field Removal Scroll
Standard Caravan Certificate
Premium Caravan Certificate
Lineage2.cz Team